Jim Watson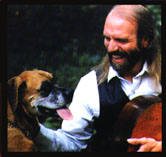 "Don't Tell Me, I Don't Know"

---

Fans of Jim will not want to miss the opportunity to purchase this recording. There are so many fine musicians who contributed to this project. You can order "Don't Tell Me, I Don't Know" by completing this form.
Produced by
Jim Watson

Recorded, Mixed
& Mastered by
Jerry Brown at
the Rubber Room

R&L Recorded by
Jeffery Romano at
Ben Cooper Farm

Photos by
Tom Cox & Anne Berry

Barker Records
132 Justice St.
Chapel Hill, NC

This album is dedicated to Dick and Ruth Watson, Jim and Mary Berry, and especially my wife, Anne Berry, whose love and support keeps me going.

It's fun to hear how arangements that are in your head come out the way you hope they will. So to all you guys who helped make it happen - The Fine Group, The Entertainers, Duke and Pinky, being reunited with Bill Hicks and Mike Craver, Alice Scott, Hoe, Chris, - Mighty, Mighty Fine! Thanks to Sheila Kay Adams for help with Young Emily. To Jimmie Rogers, Charlie Poole, The Carter Family and the old time and bluegrass players that I saw at fiddler's conventions in the 60's - my music wouldn't be the same without those people. Thanks to Jerry Brown for getting me started on this.




---



Musicians
Jim Watson

Bill Hicks

Joe Newberry

Rebecca Newberry

Bill Newton

Robin & Linda Williams

Kevin Maul


Chris Frank

Leroy Savage

Tony Williamson

Gary Williamson

Jerry Brown

Alice Gerrard

Mike Craver

The Green Grass Level Entertainers

Scott Hoffman

1) Them Beautil Bottles 2:22
Hank Bradley

2) Just Keep Waiting 'Til The Good Times Come 3:45
Weslin, Christie

3) I'm Going To The West 3:09
Trad.

4) Miss The Mississippi And You 4:02
Halley, Southern Music, ASCAP

5) Walls Of Time 4:27
Bill Monroe

6) Leaving Home 3:26
Leighton, Leighton, Shields

7) Elzic's Farewell 3:24
Trad.



8) Faded Coat Of Blue 3:28
Trad.

9) Bill Mason 2:54
Trad.

lO) My Carolina Sunshine Girl 3:07
Rogers, Peer Int., BMI)

11) Young Emily 3:13
Trad.

12) Mother The Queen Of My Heart 3:14
Bryant, Robers, Peer Int., BMI

13) Sugar Coated Love 2:12
Audrey Butler)

14) Reunion In Heaven 2:47
Flat, Scruggs



---




As so often down here we'll have a reunion
Our loved ones and friends will be gathered around
Some faces are missed, they have gone on to heaven
They will be there with Jesus 'til the trumpet shall sound




"Belle"